Miles Lamberty, Managing Director of erka Verpackungssysteme GmbH, advises his customers daily on individual automation solutions in the packaging process. In this interview, he tells us how he goes about planning a packaging line and what economic advantages even partial automation can bring to the operation.
Hello Mr Lamberty, what are the advantages of an automatic packaging line?
An automatic packaging line offers the customer several advantages: On the one hand, it serves to optimise processes by considerably increasing the speed of packaging procedures. On the other hand, automated processes greatly reduce the workload of warehouse staff. A manual packaging step is always more physically demanding for the employee than if it can be carried out with the help of packaging technology.
How do you proceed with the individual planning of a packing line for your customers?
First of all, we look at the local conditions during an initial appointment at the customer's premises to determine to what extent there is sufficient space for the corresponding technology. This enables us to determine which packaging technology would be possible in terms of space. In discussion with the customer, we compare the wishes and ideas with the available space as well as the budget.

The desired performance level and the previous number of packaged parcels are of great importance. The types of packaging used, especially the type of cardboard boxes, are essential for selecting the right packaging machine. After checking the relevant framework conditions, we can now work out the packaging processes and present them to the customer.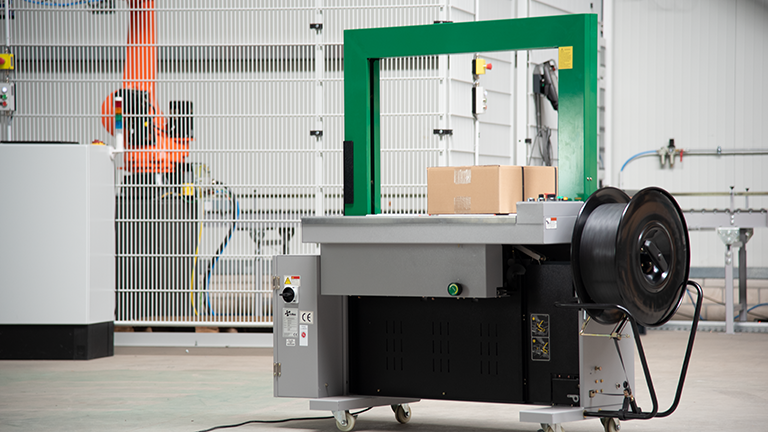 Which factors play the biggest role in planning?
The complete planning always focuses on the customer's ideas and wishes. The packaging materials used must be examined in detail for planning. If packaging types such as cardboard boxes are used that are outside the norm, this must already be calculated during planning. Not all machines can process all types of packaging equally well. If necessary, a parallel roller conveyor must be planned in order to be able to process this type of packaging efficiently.
For whom is a packing line suitable?
A precise definition is difficult. In principle, at least partial automation makes sense for every company that regularly ships parcels. In addition to the efficiency benefits, the employees are physically relieved. Especially in the demographic change, in which employees are getting older and older, it is important that they are supported as well as possible in physically demanding work.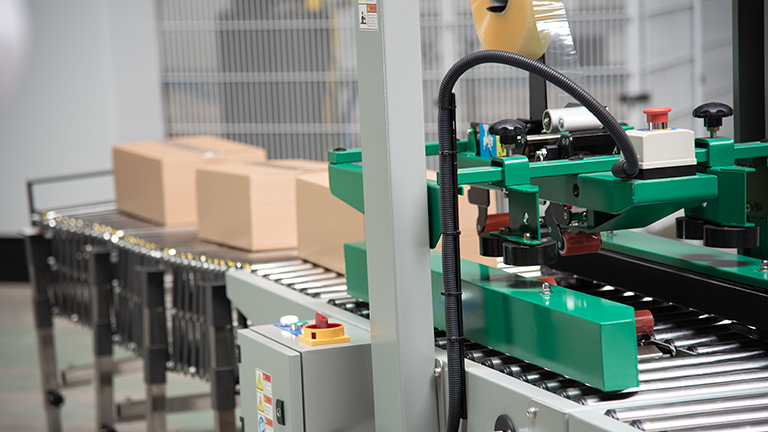 Which machines can be integrated?
The range of possible machines for a packaging line is diverse. Our range includes carton erectors through to carton sealers. But also corresponding packing tables, which are integrated in the packaging process, are part of our offer. The packaging line is rounded off with conveyor technology, labelling machines, strapping machines and palletising robots. We are able to map the complete process that a shipping package goes through.
At what key figures does it start paying off to automate packaging processes?
As a rule of thumb, as soon as there is one person in a company who is only involved in packaging, it is worthwhile to introduce a certain degree of automation. Especially in times of growth, this can make a lot of sense. In practice, it often happens at some point that the volume of parcels becomes too much for one person, but too little for two. Automated processes help to bridge this transition well.
Another aspect is the natural fatigue of warehouse staff. If they have to work all day without the support of packaging machines, they get tired during the day. Here it can be observed that they work much faster in the morning than in the afternoon. Through automation, a constant can be introduced here.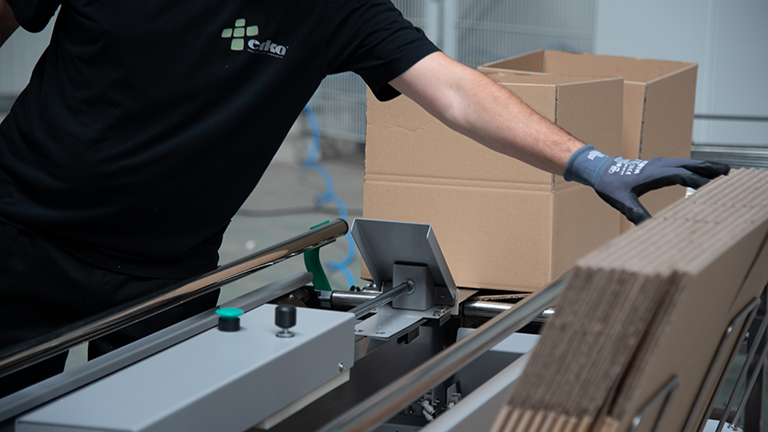 What savings potential do automations offer?
The savings potential depends very much on the type of products to be packaged and how well these packaging processes have worked by hand in the past. However, one can talk about an average savings potential of 40-50 %. As a rule, automated packaging processes run about twice as fast and significantly more can be packaged in the same period of time.
How flexible can a packing line be?
That varies greatly. When planning the packing line, we always try to be as foresighted as possible and to include certain securities. Basically, the processes are designed for a certain product range. But if it is foreseeable that there may be changes in the packaging size in the future, this can be taken into account in advance. In the case of major changes, however, we are always happy to provide support afterwards to adapt existing packing lines to new conditions.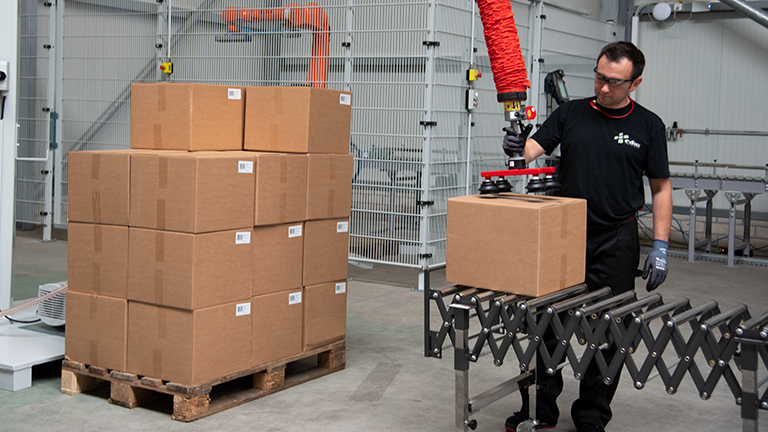 Do you have any other tips for the reader?
I generally recommend being open to the topic of automation. It can, if implemented correctly, give the employees and the company an additional competitive advantage.
Thank you very much for this interesting interview!
Would you also like to know how you can save costs in your company and pack more efficiently with automated packaging processes? We would be happy to advise you individually and without obligation. Contact us now!