On July 03, 2021, the new single-use plastic ban came into effect. This poses major challenges for online retailers and restaurant owners, but companies can also optimally protect their goods with environmentally friendly alternatives made from renewable raw materials such as grass paper or cocoa paper and equally ensure an improved eco-balance. Climate neutrality and CO² savings are just as important as renewable raw materials. Recyclability and environmentally friendly disposal also play a major role in the use of sustainable materials.
Regional and climate-friendly - Grass paper as a wonder weapon?
Grass paper can be produced "right on the doorstep" and is therefore considered to be particularly resource- and climate-friendly. In the classic extraction of fibers from wood, the adhesive "lignin" contained in the tree must first be chemically dissolved. This complex step is completely omitted in the production of grass fiber. As a result, a full 99% of water and 95% of CO² emissions can be saved compared to the production of wood fiber paper.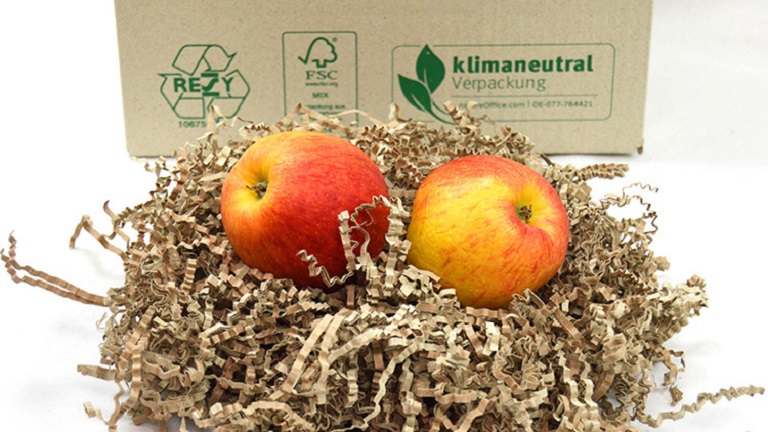 A calculation example:

✔ The production of one ton of virgin fiber from wood requires at least 6,000 liters of water. The production of grass fiber requires just under 6 liters of water.

Grass grows very quickly and does not require extra cultivation. Mostly, so-called compensation areas are used for the production of grass, which could not be used agriculturally in any other way during this time. In this way, monocultures can be avoided. In addition, grass is not very susceptible to parasites, which positively influences the quality and yield.
Regional cultivation avoids long transport routes, which also keeps CO² emissions manageable. Wood pulp, on the other hand, travels an average of around 4,000 kilometers before it is processed.
However, the production of grass paper does not work completely without wood. A proportion of wood fibers or recycled paper is still required. However, the proportion of wood used can be reduced to 50% with the current state of the art.
One final point in favor of grass paper: disposal is extremely simple. The grass paper can be composted or recycled via the waste paper collection system.
Cocoa Paper Packaging - The Ecological Eye-Catcher for Food.
Revered and adored by many populations around the world, the cocoa bean can also provide feelings of happiness when it comes to packaging. But not only the cocoa bean itself can be used for the production of packaging material, also the shell can be processed excellently. Fibers for paper production can easily be obtained from the former waste product of chocolate production. The cocoa paper produced from it has a light brownish appearance and is suitable as an eye-catcher for packaging baked goods, chocolates and other foodstuffs.
The cocoa plant is a renewable raw material, which makes it particularly sustainable for the environment. It is produced organically and does not require additional cultivation. It is disposed of through organic waste. It is therefore a closed cycle.
Similar to grass paper, classic wood fibers are added to the cocoa fibers during production. The consumption of virgin wood fibers drops to only 60% for cocoa paper, which makes cocoa paper a real ecological, but also high-quality alternative.
Well padded with corn chips
If you want to ship your goods safely to the customer, in some cases you also need suitable filling material for the cartons. There is now an environmentally friendly alternative to conventional plastic filling chips: packaging chips made from corn starch.
Obtained from corn, the packaging chips are a natural and ever renewable raw material. To produce the chips, the plant starch is foamed into packaging chips.
Disposal is also very simple here: the natural filling material dissolves when water is added and is also compostable via organic waste. Theoretically, the chips are even edible! By the way: The mostly green color of the packaging flakes is dyed and additionally visually suggests the sustainability of the packaging material.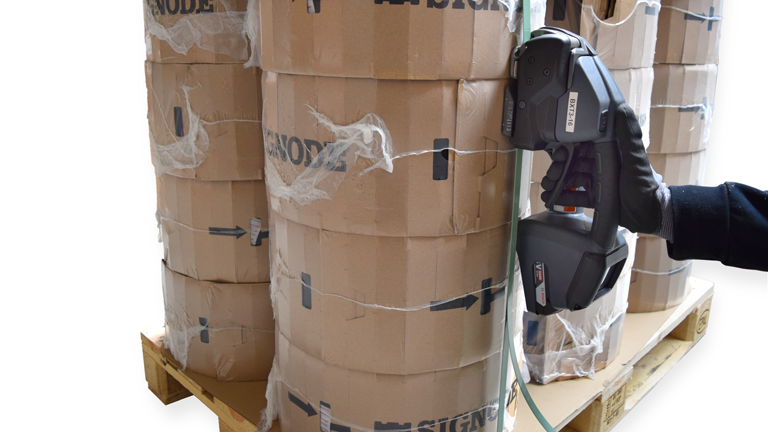 It's best to do without plastic - or is it?
In order to pack as sustainably as possible, it is essential for companies to constantly examine the entire logistics process for optimization potential. Although paper packaging reduces plastic waste, it is usually heavier and requires more energy to transport. Expert advice is worthwhile in most cases in order to implement the optimal solution.
Plastic packaging, such as PET (polyester) strapping, is recyclable and can be returned to the material cycle. They are usually made of 100% recycled material. The raw material for PET strapping is so-called "bottle flakes". These are made from used PET bottles. The use of recycled materials results in a savings potential of 85% of CO² emissions compared to production with primary raw materials.
With the right packaging material, companies can already make their packaging more sustainable today and make a major contribution to preserving the environment.
The team at erka Verpackungssysteme GmbH will be happy to advise you on building the right sustainable packaging concept for your individual products and processes. Make an appointment today for a non-binding consultation!
<<
Contact