Plastic strapping is particularly suitable for companies that work with products that naturally reduce in volume and become smaller due to drying out or cooling, for example. This is the case in the wood industry, for example, and to some extent also with metals. I am thinking, for example, of batteries that are recycled. The lead cells are melted into ingots and are then still relatively warm. When they cool down, their volume decreases by about 2%. The same applies to aluminum ingots. Then the positive properties, namely elastic recovery, come into play. Furthermore, plastic strapping is suitable for products that are particularly sensitive, since plastic strapping is much gentler on the product than steel strapping.
Yes, there still are. Above all, steel strapping is indispensable for products that are very hot. Plastic strapping can only be used at temperatures up to 100 °C. In the metal industry, it is common for products to be strapped immediately after they are produced, and then they still have temperatures well above 100 °C. In the steel industry, for example, steel strapping can be used for products that are very hot. In steel mills, for example, temperatures of up to 850 °C can prevail. In such cases, it is completely out of the question to work with plastic strapping. Temperature is still the decisive factor, but particularly sharp-edged and especially heavy products should still be strapped with steel strapping.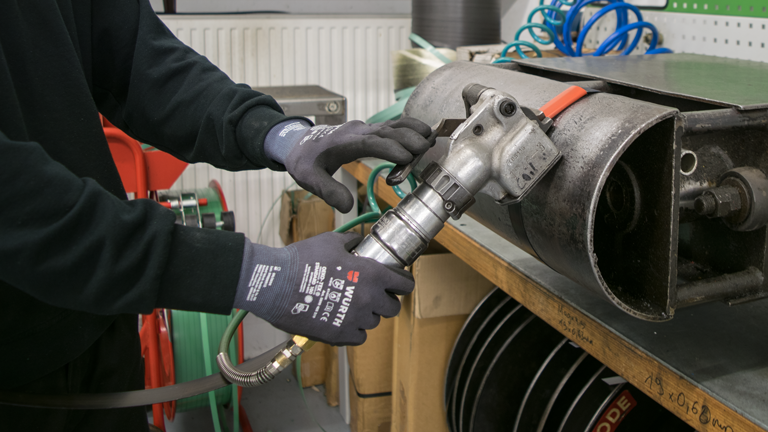 What must be observed to ensure that the change from steel to plastic strapping is successful? 
The strapping should definitely be tried out on the package to be packed. Of course, there are also empirical values. Our application engineers will be happy to advise on this. The exclusion criteria for plastic strapping are the reasons mentioned above, which make steel strapping indispensable. In addition, there is another important aspect: the type of onward transport. Particularly if the goods have to be transported across several climatic zones, there are different packaging requirements here than for purely domestic transport.
Another point that is often neglected concerns the further storage of products. How often are the same products stacked on top of each other, for example? The stacking pressure may thus increase many times over on the product below. This must definitely be taken into account in the overall consideration. But of course, cost-effectiveness must also be considered. Plastic strapping is generally considerably cheaper than steel strapping. However, in the case of a changeover, all the tools and equipment required for strapping must also be replaced. Here, the amortization of the equipment plays a major role.

Have you noticed an increased switch to PET strapping due to the increasing shortage of raw materials in steel?
It's a crazy situation in the market right now. The raw material for our steel strapping is currently very scarce and is also far from being supplied in the required quantities. Nevertheless, the steel strapping sector is virtually booming at the moment. However, plastic strapping and the required plastic granules are also in short supply, so that it is not possible at present to speak of any changes due to Corona or the current market situation. In the companies, the supply situation or securing the supply is currently in the foreground, so that few companies are thinking about a changeover. At the moment, the priorities are set on being able to maintain production.
Mr. Franke, what opportunities do you see in the industry for Signode? 
E-commerce is currently booming, also due to corona. We are benefiting here primarily through our strapping machines, which are then used for the increased demand for packaging in parcel shipping. However, this is not necessarily Signode's main target. We are predominantly the transit packaging solution specialists, securing value through our very broad product range. This means that everything that is combined in some way to form loading units is our profession. It is our concern to secure these loading units in the best possible way with our complete product range. This includes strapping, but also film packaging and protective paper packaging as well as load securing.
What do you think is the biggest challenge for the industry in the future? 
Sustainability is a major issue for us throughout the company. We have therefore set ourselves high standards with regard to this topic in our productions and products. But the demands and requirements of customers are also very high here. Customers are increasingly interested in our carbon footprint and how recyclable our products are. We have already made considerable progress in these areas in recent years and have made sustainability one of our top priorities worldwide for the coming years.
Steel strapping is the most environmentally friendly packaging material of all, as it can be reused and recycled almost endlessly. But also our plastic and paper products are increasingly made to a very considerable extent (up to 100%) from recycled materials. However, in order to maintain the quality at our promised and specified level, we also have to keep adding some virgin material to improve the quality. Currently, we are working on producing biodegradable, microplastic-free, plastic straps. Biodegradable is relatively simple, but if microplastics remain in the decomposition process and enter the food chain afterwards, this is counterproductive and does not lead to the desired results.
Another challenge we are working on is new solutions for e-commerce. For example, we are developing ideas for strapping lightweight individual packages that can be closed with paper straps instead of plastic straps.
Thank you very much for this detailed interview, Mr. Franke! We are looking forward to further expanding our long-standing partnership with Signode in the future.
Would you like to learn more about load securing and transit packaging? The team at erka Verpackungssysteme GmbH will be happy to advise you. Here you can obtain the diverse Signode products including the corresponding knowledge transfer at attractive partner prices. Contact us now.