If you want to secure your goods with strapping tape, you cannot do without the right strapping tool or strapping machine. Adapted to the different goods and requirements, a variety of different devices from various manufacturers are available. Whether manual, battery-operated or fully automatic - with the right care, modern strapping tools have a long service life despite constant stress. After a certain period of time, however, wear and tear or defects may occur. Here, the question often arises whether a repair is economically worthwhile or whether you would rather invest directly in a new device.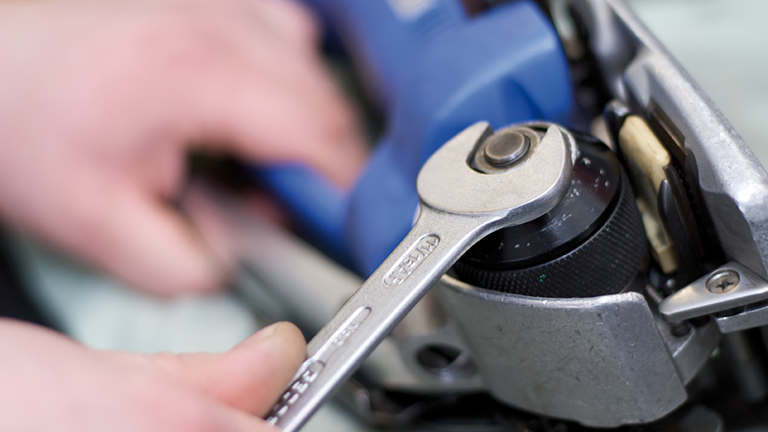 We, the team at erka Verpackungssysteme GmbH, would like to support you with our in-house master workshop and enable you to make the longest possible use of your high-quality equipment. In the following, we list when a repair of your strapping tools is worthwhile and how you can prevent unwanted downtimes in advance with the help of maintenance. In addition, we have compiled practical tips for you on how you can improve the service life of your strapping tool and also the quality of the strapping with simple habits in your company.
In our in-house master workshop in Wilhelmshaven, our team repairs your hand strapping tools as well as table machines professionally and quickly. We work independently of manufacturers and have more than 30,000 spare parts permanently in stock in our large spare parts warehouse. This ensures the fastest possible processes. We provide transparent cost estimates within 48 hours after receipt of the machine. The repair is carried out quickly after your approval. If you wish, we can have our logistics company collect your machine from your premises.
Alternatively, we also offer our on-site service by one of our technicians directly at your company. We will be happy to carry out maintenance and the statutory UVV inspection in accordance with DGUV regulation 3 for you.
When is a repair not worthwhile?
In the end, the question of repair is always primarily an economic question. As a rule, a repair is always worthwhile if the repair costs are lower than the current replacement value of the device. In practice, this means that your strapping tools can still be repaired for a long time by regularly replacing the wearing parts. Problems only arise when the regular care and maintenance of the device has been neglected over a longer period of time.
Rust damage is a frequent cause of total economic loss of a strapping tool. This is especially the case when water-sensitive battery-operated strapping tools are stored outside in the weather. The damage to the sensitive high-performance equipment is then too immense. An economic total loss is the expensive consequence.
We always recommend sending in defective devices. After an inspection of your unit, you will receive a non-binding cost estimate and can thus decide at your leisure whether the repair is economical for you. We will be happy to submit quotations for new devices and refurbished used devices.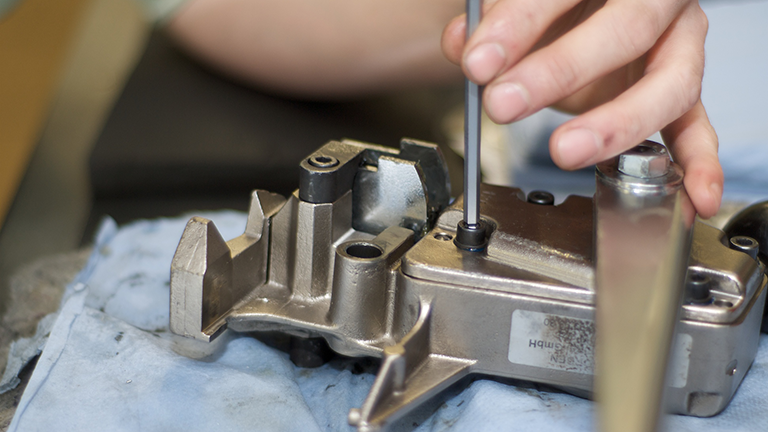 Regular maintenance creates safety
Even with carefully maintained equipment and machines, damage cannot always be prevented. However, major breakdowns and loss of productivity can often be avoided by having regular maintenance carried out. Regular replacement of wear parts and proper cleaning of the machine will ensure that your machine always remains in perfect condition. Preventive maintenance helps you avoid major breakdowns that would keep your tool down for longer hours and, more importantly, unscheduled downtime. Unmaintained equipment means more downtime for your team and therefore lost productivity.
Another important argument for preventive maintenance of a strapping tool is the associated extension of the service life of your equipment. An insufficiently maintained device will in all likelihood fail much more often and would need to be replaced sooner.
A dirty strapping tool or a dull knife can significantly reduce your strapping performance. Your tool will probably no longer function as usual. Often your team will then need several strapping attempts for the same shipment. This wastes time as well as material and ultimately reduces your productivity.
Tips for prevention in your company
First things first: clean your strapping tools regularly! Daily cleaning of the strapping tools with compressed air helps you to directly remove the smallest strap residues. In particular, you should check the tensioning wheel as well as the tooth plate for damage and keep them clean. This is the only way to ensure continuous process and product safety.
Even though modern strapping tools are very resistant and survive minor falls well, you should always remember that they are complex machines that want to be protected and handled with care. Serious falls are one of the main reasons for a tool to become defective. If you keep strapping tools safe and on a stable surface, many repairs can be avoided before they happen.
It is also extremely important that you never operate your tool without strapping. This could otherwise wear out the feed wheel on the lower grippers. In such a case, both components will wear out and probably need to be replaced prematurely. This can be easily prevented.
Note that battery-powered strapping tools in particular are very sensitive to water. Therefore, avoid leaving these tools outside at all costs, otherwise rust damage may result.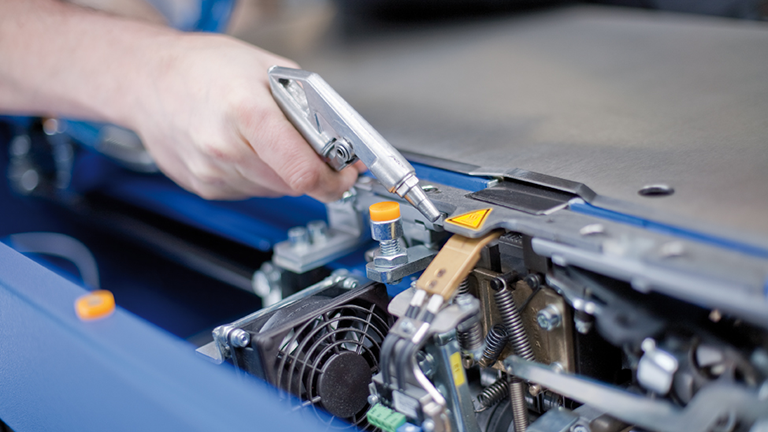 A conclusion
From an economic and ecological point of view, repairs are often the better alternative to buying a new appliance. As a rule, even minor repairs and regular maintenance can considerably extend the operating life of your appliance. We recommend that you send in a defective appliance, even if you are still unsure whether a repair is profitable. Often, only a small thing is responsible for the defect and through professional repair, your unit will quickly be as good as new again. After reviewing the cost estimate, you have the opportunity to decide whether the repair is still economically viable for you or whether we should scrap the appliance for you.
And it works as simply as this:

1. send us your device that needs servicing or is defective to erka Verpackungssysteme GmbH.
2. We will check your device as quickly as possible. You will receive a cost estimate within 48 hours.
3. After you have approved the cost estimate, we will repair your device immediately. If you do not wish to approve the repair, we will return the device to you unrepaired or dispose of it at your request. 4.
4. After the repair, we will return your repaired device to you immediately.
Do you still have questions about our repair service? Our team will be happy to help you! Contact us now!