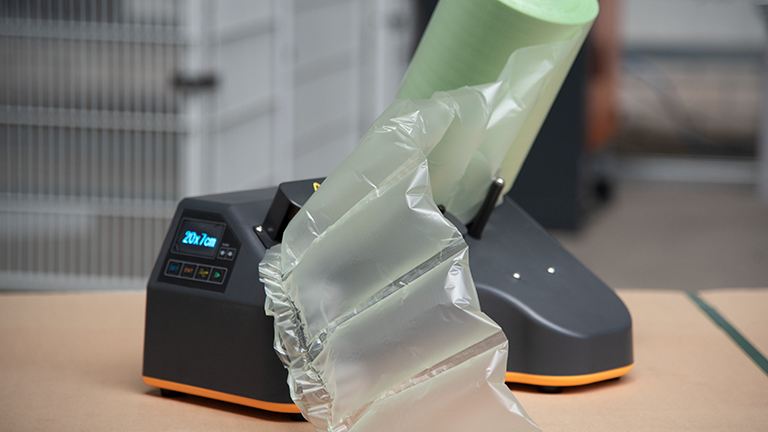 Properly protected with bubble wrap
The transport of parcels, whether fragile or not, always requires special care. When packing, you should therefore make sure that your goods are always protected from all sides to avoid direct pressure on the goods during transport. Damage to the shipped goods could otherwise be the undesirable and costly consequence. With the right protection, you can significantly reduce your complaint rate and increase your customers' satisfaction.
Air pillows are available in various versions in the shop. The well-known version of bubble wrap by the metre is ideal for wrapping sensitive goods. Larger air cushions, on the other hand, are the ideal filling material for empty spaces in cardboard boxes. The task of both versions is the same: to absorb any shocks during transport or unloading. Your goods are protected from damage on all sides thanks to the air-filled cushions.
Advantages of using an air cushion machine
You save unnecessary costs
A roll of uninflated bubble wrap for the bubble machine is particularly inexpensive to purchase and also to store. Ready-made bubble wrap or filling material made of Styrofoam are already basically very voluminous and therefore difficult to ship. The delivery of this filling material to you can usually only be done by expensive shipping on pallets. In addition, the finished roll of bubble wrap requires a very large storage area in your warehouse. This is not the case with unprocessed bubble wrap. The roll is very small and compact and therefore uncomplicated and particularly cheap to transport and store.
Furthermore, you save costs in shipping when using filling pads. The air cushions produced weigh almost nothing and have a negligible effect on the total weight of your shipment. This means that you can reduce your shipping costs to a minimum and offer your customers attractive prices.
Produce padding within seconds
With the air cushioning machine you can produce exactly the amount of cushioning you currently need and produce new air cushions in seconds if required. Production using the air cushion machine is very quiet and fast. It takes only three seconds to produce one metre of air cushion. Even if several employees are responsible for packing, a single air cushion machine usually already covers your needs. Changing a new roll of film takes a maximum of 30 seconds. Longer downtimes are thus eliminated.
Intuitive and user-friendly
The setting options of the air cushion machine, such as the thickness of the filling, are kept as uncomplicated and simple as possible, so that operation is easy and comprehensible for everyone. As a rule, previously made settings do not have to be changed in between. The use itself does not require any training time and can be carried out intuitively by any employee.
The machine is very compact and distinguishes itself by its low dead weight. This means that it can be easily moved around your company and
and can always be used where it is needed. If the machine is not needed, it can be stored in a particularly space-saving way until its next use.
Environmental friendliness
The protection of the environment and the sustainable use of resources are more relevant than ever. Bubble wrap and air cushions consist of 99 % air and, unlike polystyrene, are very material-saving. The film is 100% recyclable. Since the air cushions are filled with ordinary room air using a machine, the recipient can simply shred them with a knife and return them to the recycling system.
The appropriate bubble wrap is available in various thicknesses and designs, as well as completely compostable and recyclable bubble wrap, according to your needs. Due to the ever decreasing plastic content in the film and the direct production at the packing station, large amounts of CO² can be saved every year.
Summary

Air cushioning machines are the ideal and pragmatic solution for mail order companies to produce their own filling material cheaply directly on site. The costs for purchasing an air bubble machine are very manageable and therefore particularly attractive for small businesses. The savings potential when using such a machine is enormous and therefore equally appealing to all company sizes. Consequently, an air cushioning machine should not be missing in any company that regularly packs and ships goods.
All advantages at a glance
✓ Low acquisition costs
✓ favourable roll price compared to ready-made air cushions
✓ Reduction of the return rate
✓ Compact size
✓ Savings in shipping costs and storage space
✓ environmentally friendly packaging solution
✓ uncomplicated operation
✓ flexible table-top unit
Haben Sie noch Fragen zur Verwendung einer Luftpolstermaschine oder möchten diese selbst testen? Unser Team berät Sie gerne zu unseren Luftkissensystemen und zu anderen passenden Automatisierungslösungen für Ihr Unternehmen. Jetzt Kontakt aufnehmen!