The cost of purchasing a packaging machine is something every retailer would prefer to save. However, the right machine not only saves packaging material, but also increases efficiency at your packing stations. Choosing the right machine or handheld device is therefore worthwhile even for medium-sized companies. To help you save money, we have put together five expert tips for you below!
Save storage space with the filling cushion machine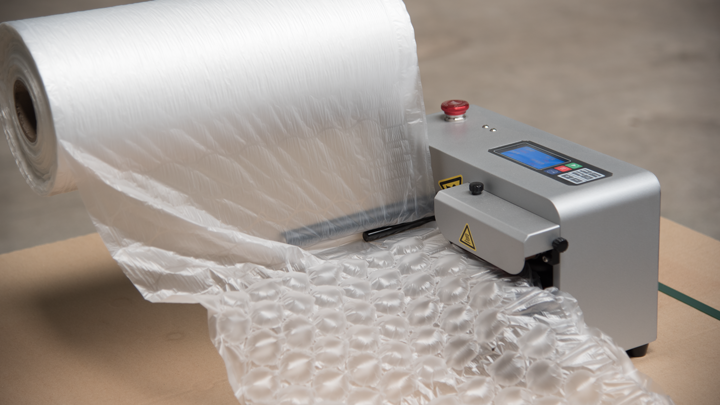 Prefabricated filling padding material made of paper or foil (bubble wrap) takes up a lot of storage space in your company. They also have to reckon with increased costs for shipping when purchasing, as this material can usually only be sent to you on pallets due to its high volume. With a filling padding machine, you can easily produce your desired padding material yourself in your company. As a table-top or stand-alone unit, the investment is therefore worthwhile even for small retailers. Rather use your valuable storage space for your own products!


Efficient processes thanks to carton sealers

Carton sealing machines close your folding cartons quickly and automatically. The glued seams are automated and particularly clean and resilient. You can be sure that your goods will thus arrive safely at your customer.

In contrast to manual closing of the cartons, the packaging speed increases significantly. The suitable machine recognizes the current carton size, so that you can also save packaging materials here. Thanks to the roller conveyor connection, carton sealers can be integrated into entire packaging lines. This means you are well equipped even at peak times.

Perfectly secured loads with automatic strapping machines




Securing packages and pallets with strapping is the material-saving and ecological alternative to stretch film. To be sure that your strapping gets its full tensile strength, it is recommended to use automatic or semi-automatic strapping machines. These increase your shipping efficiency enormously and your cartons are much more stable. Possible transport damage and thus undesirable costs are thus minimized as far as possible.


For occasional use, a semi-automatic table strapping machine is ideal. This greatly increases the speed already in your packaging process at a manageable cost.


For companies with more than 20 packages per day, an automatic strapping machine with frame is already worthwhile. Your productivity can be increased significantly this way. If you regularly ship on pallets, the pallet strapping machine is probably just right for you.


Save film with the use of your stretch machine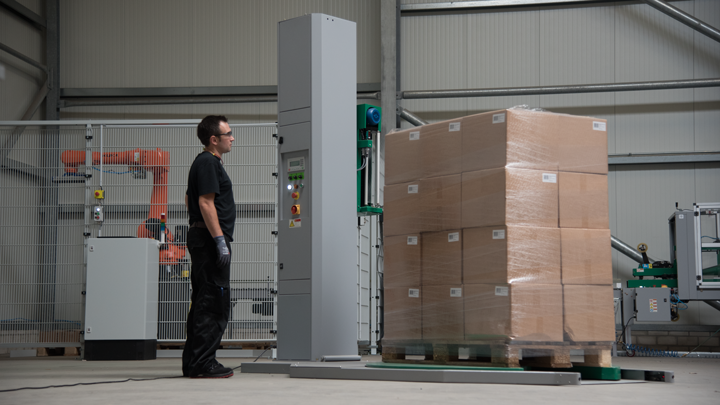 Stretching a pallet with film is a proven way to protect your goods from transport damage and weather conditions. In principle, it is possible to attach the stretch film manually with a hand dispenser. However, this will never be able to provide the same stability and resistance as by using an automatic stretching machine. In addition, manual stretching permanently represents a high physical strain for your employees, which can be avoided by using an appropriate machine.

High performance stretch film for machines is far more efficient than hand stretch film. In addition to the much more efficient way of working, you thus save a lot of film and thus costs. This also protects the environment and reduces disposal costs. In addition, the use of the appropriate stretch machine or machine, possible transport damage is drastically reduced.



Fast and economical through shrink machines

To guarantee a safe transport of especially very heavy goods, it is often advisable to secure his goods with the help of shrink film. This way, they are ideally protected from moisture and dust and due to the compression, the shrink film is a real space miracle! With the help of heat, the film wraps around your goods like a second skin.

For occasional requirements, the use of hand tools is usually sufficient. First, the film is sealed with a weld seam using a single-arm welder. Then a shrink gun is used to shrink the plastic of the shrink film with the aid of heat until it is firmly attached to the product.

Much more efficient and time-saving is the use of a shrinking machine, which welds as well as shrinks in one step. This proves to be the fastest and most economical in practice.



In summary:


✔ Your efficiency in the warehouse increases greatly

✔ You save packaging material

✔ Transport damages can be avoided

✔ Even in peak times you are well prepared

✔ Physical relief for your employees



Basically, packaging machines are also worthwhile for small companies. Here you save considerably on packaging costs and storage space! For larger companies, a sophisticated packaging concept is indispensable. This allows you to make ideal use of your employees and you don't have to worry about packaging dust in your warehouse, even during vacation and peak times.


We will be happy to advise you individually and in detail which machine is ideally suited for your application!

Too Expensive?


Due to the depreciation, the use of a machine costs you only a few euros per day and the more efficient way of working let you work significantly more productive! You are also welcome to take advantage of our machine leasing option. Contact us today!
You would like to test a machine first?
That is no problem! We will be happy to provide you with a machine for testing free of charge!Arrange an individual consultation appointment now!